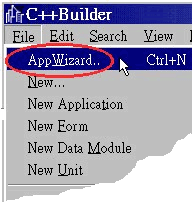 AppWizard lets you configure the skeleton of a new C++ application that uses the Microsoft Foundation Class Library (MFC). Thought C++ Builder 3.0 support MFC, but it is not so easy to make MFC application as Visual C++.
Now, you can use this Expert for C++Builder 3.0 to build a new MFC application as easy as using Visual C++.
This Expert make you feel that you are using the AppWizard of Visual C++ 4.X & 5.0. If you are using C++Builder 3.0 now and want to make MFC application or learn more about MFC, you never skip this Expert.